Pornstar Info
Videos with Dustin Steele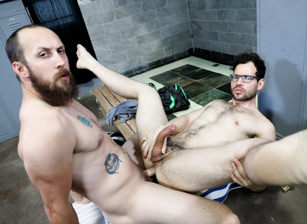 Description :
Dustin Steele is sitting in the locker room and he is pissed off because Angel Ventura is late for his workout. When Angel shows up 20 minutes late, Dustin gives him some shit about being late, but then tries to get him to forget about his bad day by motivating him to work out. When Angel continues to be lazy about working out, Dustin begins to grab his ass and asks him if he is motivated yet. With that they begin groping and making out. They exchange blow jobs and then Dustin rims and fucks Angel first. Angel then rims Dustin and fucks him until he explodes with cum. Angel then shoots his load all over Dustin.
Categories :
Latino
,
Condom
,
Hardcore
,
Anal Sex
,
Oral
,
Deep throat
,
Brunette
,
Hairy
,
Tattoo/Piercing
,
Big Dick
,
Athletic
,
Facial Hair
,
Uncut cock
,
Rimming
,
Climax
,
HD Movies
,
Gay Porn
,
Caucasian
,
Smooth
,
Dark Hair
,
Muscular
,
Athlete
,
Blowjob
,
Locker Room
,
Kissing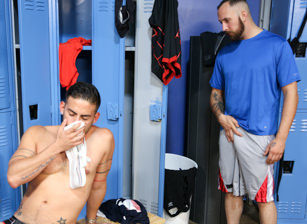 Description :
Cesar is alone in the locker room, which is messy with dirty clothing strewn about. He starts smelling a jock-strap that is hanging on a locker and as he pulls it off to get a better smell he starts arousing himself through his shorts. He then discovers another jock-strap on the bench and he sits down and starts smelling and stroking himself with it. Engrossed in his own fantasy, he does not notice that Dustin has walked into the locker room and when Dustin clears his throat, Cesar is startled. Dustin takes control and tells Cesar he should smell his jock strap that he is wearing. Cesar starts smelling and licking Dustin's jock strap and then pulls out his cock and does his best to deep throat the entire thing. He pulls out his own cock and strokes himself as he sucks Dustin. Dustin then sucks on Cesar's cock and then turns him around and rims his ass. He takes his jock strap off and tells Cesar to smell it as he fucks him in the ass. Dustin pounds Cesar in a couple positions before lying him on his back and fucking the cum out of him, all the while that Cesar is smelling his own jock strap. Dustin pulls out and shoots his own load all over Cesar.Enjoy!
Categories :
Hardcore
,
Anal Sex
,
Oral
,
Deep throat
,
Brunette
,
Tattoo/Piercing
,
Big Dick
,
Athletic
,
Facial Hair
,
Rimming
,
Climax
,
HD Movies
,
Gay Porn
,
Caucasian
,
Blowjob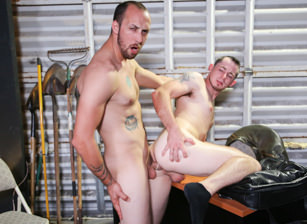 Description :
We see Dustin sitting at a desk in a dimly lit warehouse, smoking a cigarette and counting money. He makes a phone call to someone who owes him money and based on his tone and demeanor we know that this is the type of guy you do not want to fuck with. As he goes about counting the various amounts of money he has collected, he opens a bag of cash and gets very upset to discover a bunch of single dollar bills. Annoyed that he does not want to count them all he calls the person to find out how much is in the bag and threatens him. A knock at the door prompts Dustin to tell Toby to come in and Toby walks in all nervous with an envelope to give to Dustin. When he hands Dustin the envelope he tries to leave right away, but Dustin tells him to take a seat. Knowing he is short on the money he owes Dustin, Toby begins to try and explain that he will pay him back if he can have just another week. Dustin is now pissed and he gives Toby an ultimatum, either he takes a punishment for not paying or he sucks Dustin's cock. He tells Dustin after sucking his dick for a while, that he will let him fuck his ass if he forgives him. Dustin thinks about it, and of course agrees. Dustin then sucks Toby's dick for a bit and then rims his ass before fucking him in a few positions.

Enjoy!
Categories :
Condom
,
Anal Sex
,
Oral
,
Deep throat
,
Brunette
,
Tattoo/Piercing
,
Ass Play
,
Facial Hair
,
Rimming
,
Climax
,
HD Movies
,
Gay Porn
,
Caucasian
,
Jerking off
,
Blowjob