Pornstar Info
Videos with Cesar Rossi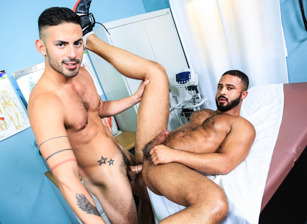 Description :
Cesar & Damian are quizzing each other for their mid-term nursing exam in the Doctor's Office. They are discussing blood flow and the discussion moves to the blood flow in their penises. Soon they have their cocks out and they discover that you can hear your heart beat and blood flow through the Stethoscope on their hard cocks. Damian sucks Cesar's eager dick first and then Cesar sucks Damian's throbbing cock. Damian puts Cesar up on the exam table and spreads his legs far and wide so he can rim his ass deep with his wet tongue. He then fucks Cesar bent over the exam table deep and hard until Cesar wants to get in on some of the action and then he fucks Damian bent over the table until he can't hold back no longer and Damian busts his built up nut all over himself. Cesar can't hold back any more and releases his warm load all over Damian's hairy chest. Enjoy!
Categories :
Interracial
,
Condom
,
Anal Sex
,
Oral
,
Deep throat
,
Brunette
,
Hairy
,
Tattoo/Piercing
,
Big Dick
,
Facial Hair
,
Uncut cock
,
Rimming
,
Gay Porn
,
Muscular
,
Blowjob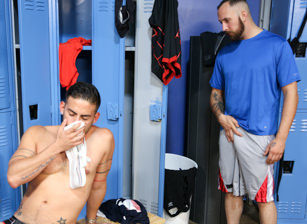 Description :
Cesar is alone in the locker room, which is messy with dirty clothing strewn about. He starts smelling a jock-strap that is hanging on a locker and as he pulls it off to get a better smell he starts arousing himself through his shorts. He then discovers another jock-strap on the bench and he sits down and starts smelling and stroking himself with it. Engrossed in his own fantasy, he does not notice that Dustin has walked into the locker room and when Dustin clears his throat, Cesar is startled. Dustin takes control and tells Cesar he should smell his jock strap that he is wearing. Cesar starts smelling and licking Dustin's jock strap and then pulls out his cock and does his best to deep throat the entire thing. He pulls out his own cock and strokes himself as he sucks Dustin. Dustin then sucks on Cesar's cock and then turns him around and rims his ass. He takes his jock strap off and tells Cesar to smell it as he fucks him in the ass. Dustin pounds Cesar in a couple positions before lying him on his back and fucking the cum out of him, all the while that Cesar is smelling his own jock strap. Dustin pulls out and shoots his own load all over Cesar.Enjoy!
Categories :
Hardcore
,
Anal Sex
,
Oral
,
Deep throat
,
Brunette
,
Tattoo/Piercing
,
Big Dick
,
Athletic
,
Facial Hair
,
Rimming
,
Climax
,
HD Movies
,
Gay Porn
,
Caucasian
,
Blowjob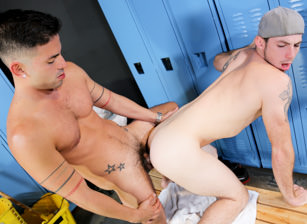 Description :
Toby is a maintenance worker/janitor, cleaning the floors of a locker room. He is wearing headphones while rocking out to one of his favorite songs. He can't hear a thing as he moves around the locker room cleaning every inch. Cesar walks into the Locker Room, undresses and discovers he does not have a towel in his locker and all the other towels are dirty. He tries to get the attention of Toby who cannot hear him over his music. Cesar has to talk loudly to get Toby's attention. When Toby turns around he is instantly attracted to the naked body of Cesar and finds himself at a loss for words. The two begin kissing and soon Toby is on his knees sucking Cesar's hard uncut cock. The look in Toby's eyes as he takes every inch of that uncut cock of Cesar's shows just how much he is enjoying it. Cesar gets down on his knees and starts to suck on Toby's hard cock. Toby loves his dick sucked but he loves his ass rimmed even more. Cesar bends him over the bench and spreads his legs wide to prop open his tight little hole. Cesar buries his face in it, licking and sucking all over Toby's round ass. Cesar's big uncut cock is ready to fuck Toby's little ass. He pushes deep into him making him cringe with delight. The feel of his uncut, thick dick throbbing deep in his tight butt almost makes Toby buckle down to his knees. Cesar sees the enjoyment and wants to feel a hard dick inside of him. They switch positions and Toby fucks Cesar up against the lockers going deep and hard. It's been awhile since Cesar has had some cock in his lovely ass. Cesar gets his fill and decides to fuck Toby again but this time he has him lay down on the bench. He lifts his smooth legs up in the air and pushes his fat dick into Toby once again. He can tell Toby is getting close to cumming so he fucks him faster and deeper until Toby explodes all over himself. Once Cesar sees his load he can't contain his own and cums hard gushing out loads of cum right after another. Enjoy!
Categories :
Latino
,
Condom
,
Hardcore
,
Anal Sex
,
Oral
,
Tattoo/Piercing
,
Masturbation
,
Athletic
,
Big Loads
,
Facial Hair
,
Uncut cock
,
Workers
,
Rimming
,
Climax
,
HD Movies
,
Gay Porn
,
Caucasian
,
Dark Hair
,
Jerking off
,
Blowjob
,
Locker Room