Pornstar Info
Videos with Rego Bello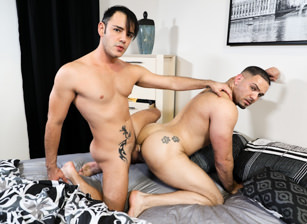 Description :
Julian Knowles is sleeping in bed when Rego Bello comes home from work. It takes a little bit, but Rego finally wakes him up and is annoyed that while he was working all day, Julian has been sleeping. Sensing his frustration, Julian puts on the charm and coaxes Rego into the bed with him where they start making out. Soon, both are naked and passionately making love with each other. Julian worships Rego's big beautiful cock with his tongue and mouth. Rego then goes into rimming Julian's beautiful ass. He fucks Julian doggy style first and then Julian bends Rego over and rims his gorgeous ass for a while. Rego then goes back to fucking Julian and after a couple more positions, both cannot hold back and they shoot their loads all over each other. Enjoy!
Categories :
Condom
,
Anal Sex
,
Oral
,
Brunette
,
Tattoo/Piercing
,
Big Dick
,
Athletic
,
Rimming
,
Gay Porn
,
Jerking off
,
Gay Couple
,
Blowjob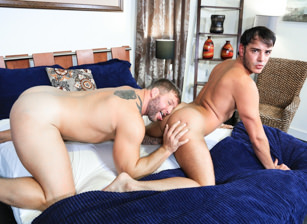 Description :
Colby & Rego are sitting in bed discussing their sex life and the fact that they always do the same thing. They want to spice it up a bit and try fucking each other. They share blowjobs to warm each other up and then Colby goes right for Rego's big bubble but and he rims his ass deep before fucking him Doggy style. He fucks Rego in a few different positions before Rego proclaims it is his turn to fuck Colby. Colby rides Rego's big cock first and then flips onto his back where Rego fucks him so good that they both explode in their own juices. Enjoy!
Categories :
Condom
,
Anal Sex
,
Oral
,
Brunette
,
Tattoo/Piercing
,
Bear
,
Ass Play
,
Athletic
,
Facial Hair
,
Rimming
,
Gay Porn
,
Caucasian
,
Jerking off
,
Gay Couple
,
Blowjob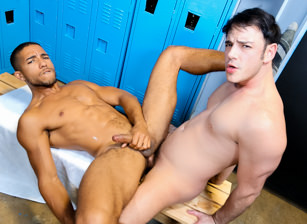 Description :
Mike is sitting alone in the locker room looking at his phone and he is visibly upset. Rego walks in and strikes up a conversation with him and Mike tells him he is upset because the guy he recently starting dating has a boyfriend and he would be nothing more than a 'side piece.' He is upset about always meeting the wrong guys. Rego is a little exasperated because he has heard this before from Mike, but he tells him he can relate as he has been single for the past year and meeting all the wrong guys too. Mike jokingly asks him why they have never hooked up and Rego tells him 'you never asked.' With that they are soon kissing and groping each other. Rego is 1st to suck Mike's hard cock and then Mike drops to his knees and gives Rego such a great blowjob that he exclaims 'why have we not done this sooner?'Mike then says he wants to eat Rego's big round ass and Rego agrees. Mike goes to town on Rego's beefy ass burying his face deep between his thick butt cheeks. Rego then fuck Mike long and deep with his hard cock as Mike rides it utilizing his hips to their full potential. He then flips Mike on his back and fucks him until Mike shoots a nice huge thick load of creamy cum. Rego can't hold back and shoots his load all over Mike. Mike then says he needs to take him to dinner!
Enjoy!
Categories :
Interracial
,
Black
,
Condom
,
Hardcore
,
Anal Sex
,
Oral
,
Tattoo/Piercing
,
Big Dick
,
Ass Play
,
Athletic
,
Big Loads
,
Facial Hair
,
Rimming
,
Climax
,
HD Movies
,
Gay Porn
,
Smooth
,
Dark Hair
,
Blowjob
,
Locker Room