Pornstar Info
Videos with Scott DeMarco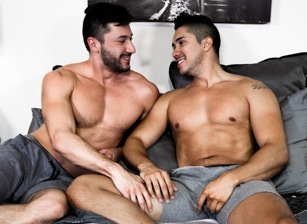 Description :
Adrian Suarez and Scott DeMarco are sitting in bed and Scott is asking to be taught phrases in Spanish such as 'Cock' 'Suck My Dick' 'I Want Your Cum' etc. Adrian is amused and obliges him before they both start making out and groping each other. Adrian sucks Scott's thick cock first and then Scott moves to Adrian's beautiful ass where he rims him and gets his ass ready for his cock. He fucks Adrian doggy style first for a while before flipping him over and sucking his cock. Adrian then rides Scott's cock for a while before lying on his back and Scott fucks the cum out of him. Scott then shoots his big load all over Adrian.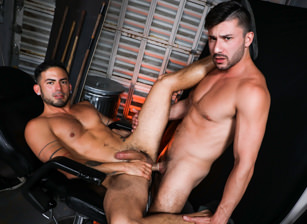 Description :
Cesar and Scott have never fooled around in a back room play area before, but Scott's friend Jack offered for him to use his play room. After a little awkwardness, they settle into the environment and start playing with each other. Cesar sucks Scott's big cock first and then Scott sucks Cesar. Scott then rims Cesar's ass before fucking him in a few positions on the different items in the play room. Scott fucks the cum out of Cesar and then shoots his own load onto Cesar. Enjoy!
Categories :
Amateur
,
Latino
,
Condom
,
Hardcore
,
Anal Sex
,
Oral
,
Deep throat
,
Tattoo/Piercing
,
Big Dick
,
Masturbation
,
Ass Play
,
Athletic
,
Big Loads
,
Facial Hair
,
Rimming
,
Climax
,
HD Movies
,
Gay Porn
,
Dark Hair
,
Jerking off
,
Blowjob
,
Kissing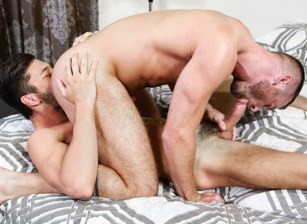 Description :
Scott & Aiden are sitting in bed discussing their future vacation to Italy. Aiden asks Scott if he has been saving his money as he said he would and Scott admits that he might have to borrow some from him. Annoyed, Aiden tells Scott he needs to stop spending so much money on nice clothes. Unable to resist Scott's charm, Aiden tells him that if he gives him the fuck of his life he will spot him the funds for the trip. Scott starts out sucking Aiden's cock and he makes sure to take all of it down his throat. Aiden then sucks Scott's big cock and he too Deep Throats it to the hilt. Scott then rims Aiden's ass while Aiden continues to suck his cock. Aiden then climbs on top of Scott and rides his cock like a champ with his beautiful ass. They fuck in several positions until Scott cannot hold back and he shoots his load all over Aiden who eagerly wipes it up with his fingers and eats it. Scott then feeds his cock to Aiden as he jerks himself off and then eats his own cum. Enjoy!
Categories :
Condom
,
Anal Sex
,
Oral
,
Brunette
,
Hairy
,
Ass Play
,
Athletic
,
Facial Hair
,
Rimming
,
Gay Porn
,
Jerking off
,
Gay Couple
,
Blowjob
,
Kissing