Pornstar Info
Videos with Chandler Scott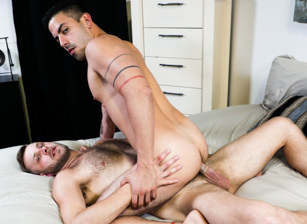 Description :
Cesar Rossi wants to go for a run because he has been training for a marathon. However, his lower back has been hurting him a lot lately and Chandler Scott offers to rub it to make him feel better. He takes off Cesar's running shorts to get a better position to rub him and soon his hands start wandering to his ass. His hands are replaced with his tongue as he rims Cesar's ass. Chandler then moves to Cesar's big cock and sucks him deep. Cesar then moves to Chandler's big cock and sucks him. Cesar then climbs on top of Chandler and rides his cock deep in his ass. Cesar then puts Chandler on all fours and rims him ass nice and deep with his tongue while stroking Chandler's big cock. Cesar fucks Chandler doggy style first and then flips him onto his back and fucks him until Chandler cannot hold back and shoots a nice load of cum all over his own hairy chest. Cesar then shoots his load all over Chandler. Enjoy!
Categories :
Blonde
,
Condom
,
Hardcore
,
Anal Sex
,
Oral
,
Deep throat
,
Brunette
,
Tattoo/Piercing
,
Athletic
,
Facial Hair
,
Rimming
,
Gay Porn
,
Caucasian
,
Jerking off
,
Blowjob
,
Massage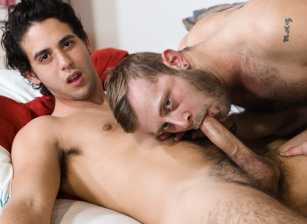 Description :
Chandler is sitting in his messy bedroom on the bed playing a game on his phone when Dylan walks in. Dylan is obviously annoyed because Chandler has not cleaned up the bedroom or apparently done anything but play games while he was away. Dylan notices that the lube bottle and towel are sitting on the night stand and that pisses him off as well. Chandler promises him that he didn't jack off because he was waiting for him to get home. He puts on the charm and soon Dylan has melted into his arms and they are passionately making out. They take turns sucking each other for a while and then Chandler rims Dylan's ass. He fucks him in a few positions on the bed before they both cum. Enjoy!
Categories :
Condom
,
Anal Sex
,
Oral
,
Hairy
,
Athletic
,
Facial Hair
,
Rimming
,
Gay Porn
,
Caucasian
,
Jerking off
,
Gay Couple
,
Blowjob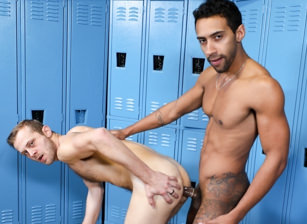 Description :
Jay Alexander is finishing up his tour of the gym in the locker room with Chandler. He explains to him the discount offerings based on the days that Chandler would want to work out. Chandler asks when it is most 'Fun' at the gym and Jay is confused by that question. Chandler clarifies that he heard that this gym is very cruisy and that you can have some good hook ups. With that, Jay smiles knowingly and Chandler takes that as opportunity to move in and take what he wants. They start kissing and soon Chandler is on his knees sucking Jay's big cock. Jay then sucks Chandler for a while before bending him over and rimming his ass. He then fucks Chandler bent over the bench and then Chandler straddles him and rides his big cock. Jay jacks Chandler's cock while he is riding him until Chandler shoots all over Jay's stomach. Jay then stands up and shoots his load all over Chandler. Enjoy!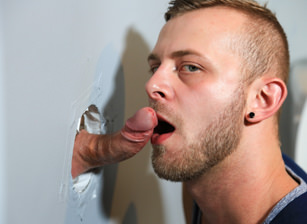 Description :
Peter and Chandler are lovers who are looking for some adventure in their sex life. Chandler has heard about this bathroom with a glory hole and brings Peter to check it out. Neither has ever had sex in a bathroom or used a glory hole, so they are excited yet are keeping an eye out encase some body walks in. Chandler sticks his cock through first and Peter sucks it. Peter then sticks his through and Chandler sucks it. Chandler then comes out and they do some more sucking before Chandler rims Peter's ass and fucks him bent over the trash can. Peter then lies on the floor and Chandler rides his cock until both shoot their loads. Enjoy!
Categories :
Condom
,
Anal Sex
,
Oral
,
Deep throat
,
Brunette
,
Hairy
,
Tattoo/Piercing
,
Glory Hole
,
Athletic
,
Facial Hair
,
Rimming
,
Gay Porn
,
Caucasian
,
Gay Couple
,
Blowjob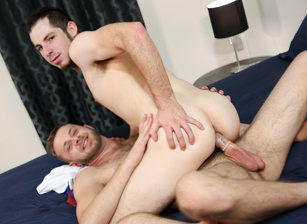 Description :
Chandler & Toby are out for an afternoon run on a beautiful sunny day. They've been running together for weeks training for the upcoming marathon. They stop under a tree for some shade and to catch up on some breath. Toby realizes they've run about 2 miles and suggests that they should go back to Chandler's and have some extra fun. Chandler agrees and they run back to his pad where they begin to undress. They are both horned up as they kiss deeply ripping each other's clothes off. Toby starts out by sucking Chandler's rather large cock. He can feel it pulsate in his mouth as he drools all over his big dick. Toby loves to service Chandler any chance he gets. They both then get on the bed and as Toby continues to suck Chandler's cock, Chandler rims his ass deep prepping it for his big dick. Toby with his mouth full of cock is ready for it to be deep in his tight hole. He puts the condom on Chandler and slowly slides down Chandler's shaft until he's sitting on hi balls. Toby begins to grind using his hips with amazing precision. Chandler grabs Toby's waste and pushes up into him as they both moan in pleasure. Toby does a reversal and rides Chandler some more and Chandler loves the view of Toby's smooth round ass as he watches his cock go in and out of his sexy ass. Chandler then fucks him doggy style for a while before flipping him on his back and fucking the cum out of him. Chandler pulls his cock out and unleashes his built up load all over Toby's chest.Enjoy!