Pornstar Info
Videos with Julian Knowles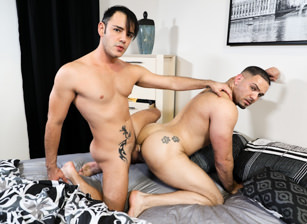 Description :
Julian Knowles is sleeping in bed when Rego Bello comes home from work. It takes a little bit, but Rego finally wakes him up and is annoyed that while he was working all day, Julian has been sleeping. Sensing his frustration, Julian puts on the charm and coaxes Rego into the bed with him where they start making out. Soon, both are naked and passionately making love with each other. Julian worships Rego's big beautiful cock with his tongue and mouth. Rego then goes into rimming Julian's beautiful ass. He fucks Julian doggy style first and then Julian bends Rego over and rims his gorgeous ass for a while. Rego then goes back to fucking Julian and after a couple more positions, both cannot hold back and they shoot their loads all over each other. Enjoy!
Categories :
Condom
,
Anal Sex
,
Oral
,
Brunette
,
Tattoo/Piercing
,
Big Dick
,
Athletic
,
Rimming
,
Gay Porn
,
Jerking off
,
Gay Couple
,
Blowjob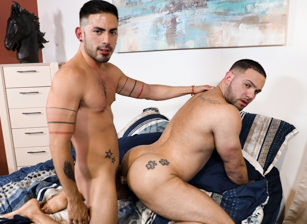 Description :
Julian and Cesar are in their bedroom chatting when Julian shows him the stuffed animal that he gave him back in 2014. They chat about how great their relationship is and Julian is being very sentimental which makes Cesar laugh and also turns him on. They embrace; start kissing and then the passion builds as they undress each other on the bed. Once the clothes come off they grind their bodies and cocks together for a while before Cesar starts sucking Julian. Julian then sucks Cesar and them move his tongue to this ass. Julian fucks Cesar 1st in two positions and then Cesar rims Julian and fucks him in two positions until they both shoot their loads. Enjoy!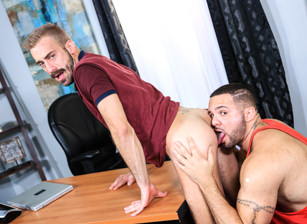 Description :
Jett is at this desk working when he hears a knock at the door. Julian walks through and Jett asks him what he is doing there! Julian is wearing his gym clothes and obviously all sweaty from working out. He approaches Jett with a confident swagger and tells him he cannot resist him and pulls Jett into his sweaty body. Jett sniffs in Julian's man sweat and is immediately intoxicated by Julian's charm. He tells him to lock the door and the two start making out. Julian pulls down Jett's pants, bends him over the desk, and starts rimming his ass. He then stands up, takes off his sweaty shirt and puts it into Jett's face and makes him smell his scent while he continues to rim his ass. He then has Jett suck his cock for a while as he face fucks him. Julian then sits in the chair and has Jett ride his hard thick cock. He then bends Jett over the desk and continues to fuck him long and hard. He flips him onto his back and fucks until he cannot hold back. Jett tells him to shoot his load on his face so they hop off the desk and sit in the chair as both shoots their loads at the same time! Enjoy!
Categories :
Blonde
,
Condom
,
Anal Sex
,
Oral
,
Brunette
,
Tattoo/Piercing
,
Big Dick
,
Athletic
,
Facial Hair
,
Rimming
,
Gay Porn
,
Caucasian
,
Jerking off
,
Blowjob
,
Kissing