Pornstar Info
Videos with Aston Springs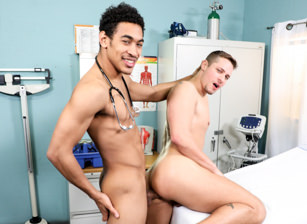 Description :
Aston Springs is waiting in the exam room for the physical therapist Mateo Fernandez to show up. He has injured his neck and looking for some release from the pain. Mateo comes in and begins his exam and starts checking Aston's range of motion. He asks Aston how he injured his neck and Aston tells him the story of how he did it while giving oral sex at an orgy. This excites Mateo and as he is examining Aston he rubs up against him and Aston notices the big bulge in Mateo's pants. Mateo's cock is then out and Aston is showing him how good of a cock sucker he is. After a while, Aston gets naked and Mateo sucks his cock. Mateo then bends him over the rims his ass. Mateo then fucks Aston from behind for a while. Aston then lies on his back and Mateo fucks him deep and hard until he cannot hold back and shoots his cum all over himself. Mateo pulls out and shoots on Aston.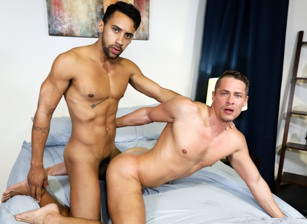 Description :
Jay & Aston are sitting in a park and talking about how much they care for each other after just a short time of dating. They then go for a walk along the shore of the lake and also walk to a tree where they decide to go back to Jay's place. Once inside the bedroom the passion continues as they undress and Aston starts sucking Jay's cock. They then move into a 69 where Jay rims Aston's ass and Aston continues to suck Jay's big hard dick. Aston then sits on Jay's throbbing cock and rides him long and deep. He then goes on all four as Jay fucks him from behind. They move into a spoon position and then end with Austin on his back as Jay fucks him until they both shoot their loads.
Categories :
Interracial
,
Anal Sex
,
Oral
,
Deep throat
,
Tattoo/Piercing
,
Big Dick
,
Ass Play
,
Athletic
,
Rimming
,
Climax
,
HD Movies
,
Gay Porn
,
Caucasian
,
Smooth
,
Muscular
,
Athlete
,
Gay Couple
,
Blowjob
,
College
,
Kissing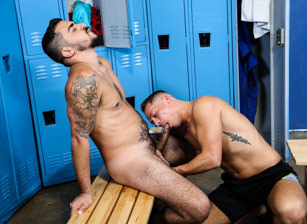 Description :
Aston has entered the locker room after his workout and he is toweling off and stretching when Diego walks into the room. They make a little small talk and admit that they have both been watching one another while they were working out. Admitting their attraction to each other, they start out kissing and then Aston drops to his knees and begins sucking Diego's beautiful thick uncut cock. Diego then sucks Aston's long hard cock before turning him around and eating his beefcake ass! Diego then begins fucking Aston and with every thrust the intensity builds. He flips him onto his back and fucks him so hard that Aston cannot hold back and he shoots a huge amount of cum all over himself. Diego pulls out and shoots all over Aston's smooth sexy chest. Enjoy!
Categories :
Latino
,
Condom
,
Anal Sex
,
Oral
,
Athletic
,
Beefy
,
Facial Hair
,
Rimming
,
Gay Porn
,
Caucasian
,
Jerking off
,
Blowjob
,
Locker Room
,
Kissing