Pornstar Info
Videos with Adrian Suarez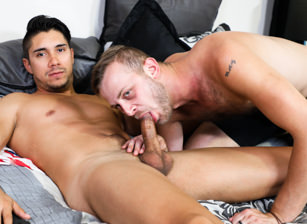 Description :
Adrian Suarez and Chandler Scott are sitting in bed and Chandler is explaining the upcoming event in town called Pig Week. When finished he tells Adrian that he loves him, but he wants him to start topping him too because he also likes to be the bottom sometimes. Adrian says he will try, but no promises and they begin making out. Chandler moves down to Adrian's hard cock and sucks him. Adrian then sucks Chandler for a bit and they then move into a 69. Chandler then lubes up Adrian's cock and begins riding him. Even though Adrian was hesitant to fuck him, he gets into it and starts fucking Chandler deep and hard. Chandler then fucks Adrian doggy style and on his back until both explode with cum.
Categories :
Latino
,
Anal Sex
,
Oral
,
Deep throat
,
Brunette
,
Hairy
,
Bareback
,
Athletic
,
Facial Hair
,
Caucasian
,
Jerking off
,
Blowjob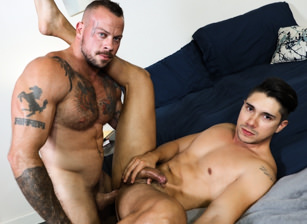 Description :
Sean Duran and Adrian Suarez are in bed but Adrian is on his phone ignoring Sean. Sean whips out his hard cock to get Adrian to notice but it doesn't work and Sean begins to get pissed. Finally, he gets Adrian's attention and he pushes him down on his hard cock and makes him suck every inch of it. Sean now has Adrian's full attention and they begin to passionately kiss. Soon Sean has Adrian's uncut cock deep down in his throat and he bends Adrian over to reveal his sexy firm ass. Sean buries his eager face between his cheeks and tongue fucks him until his ass is ready for his raw throbbing cock. Adrian tells him to fuck him and Sean pushes his dick balls deep fucking him and thrusting deep until Adrian needs a new position. Sean continues to fuck his tight ass until they both blow their huge warm loads.
Categories :
Latino
,
Anal Sex
,
Oral
,
Tattoo/Piercing
,
Bareback
,
Facial Hair
,
Rimming
,
Gay Porn
,
Caucasian
,
Muscular
,
Jerking off
,
Blowjob
,
Kissing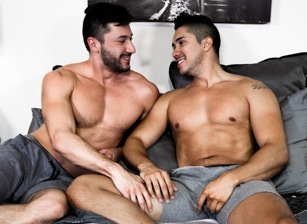 Description :
Adrian Suarez and Scott DeMarco are sitting in bed and Scott is asking to be taught phrases in Spanish such as 'Cock' 'Suck My Dick' 'I Want Your Cum' etc. Adrian is amused and obliges him before they both start making out and groping each other. Adrian sucks Scott's thick cock first and then Scott moves to Adrian's beautiful ass where he rims him and gets his ass ready for his cock. He fucks Adrian doggy style first for a while before flipping him over and sucking his cock. Adrian then rides Scott's cock for a while before lying on his back and Scott fucks the cum out of him. Scott then shoots his big load all over Adrian.